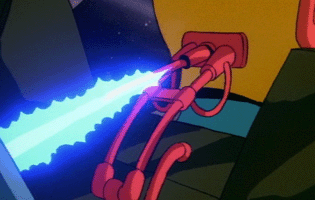 The primary point of connection between an E-frame and its pilot, the cyber-jack is a computerized connection at the back of a pilot's neck. It allows the neural impulses in the pilot's brain to be translated into digital commands for the E-frame. In effect creating an extension of the pilot's own body, the cyber-jack allows an E-frame to perfectly mimic his or her movements.
However, the interface is touchy and difficult to master. When the Pirates first began training on E-frames, all of them encountered a great deal of difficulty controling them, being unable to even hold a formation during flight.
Later, when Hallas engaged a Neosapien scout, he became so focused on aiming that he lost control of his E-frame and went tumbling through space.