Albrecht Ketzer


Vital statistics
Rank
leader of Amazon mutants
Gender
male
Race
human/plant hybrid
Faction
Amazon Mutants
Position
Amazon Mutant Hybrid commander
E-frames
none
Toys
none
Appearences
Dark River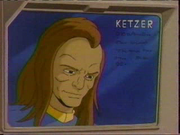 Regarded as the best geneticist in the solar system Ketzer was sought out in the hopes that he could uncover some weakness in the recently revealed Neo-lords by Exofleet. What they found was new madness and new threat.
Ketzer has developed a retro-virus that combined the human genome with a plant analog He had taken control of an Amazonian tribe turning them into human/plant hybrids and using them to harass the local Neosapien forces. After she was shot down by Neo-Sapians, Nara Burns was captured by Ketzer and injected with some variant of his retrovirus. He used this as a means to force Marsh into helping him to close down the city of Manaus. If Exofleet would help him shut down the city, he would give Nara the antidote to the retrovirus. Before the deal could be acted upon, Draconis attacked disrupting the group.
Ketzer then revealed that he lied about the existance of an antidote. Before Marsh and company could take him into custody, Ketzer vanished.
History
[
]